United Plumbing Heating Air & Electric
United Plumbing Heating Air & Electric has been servicing the indoor comfort needs of the Los Angeles County since 1972, they are the best choice for reliable and efficient installation and repair for all your plumbing, electric, heating and cooling needs. There is no need to call any other number "One Call Does It All!"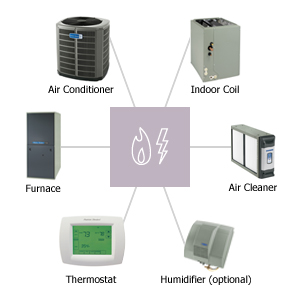 California's climate widely varies over the course of the seasons, from sub arctic to arid, it depends on the elevation, latitude and longitude of the area, the proximity of coastline is a big factor as well. Especially in the city of Los Angeles, known as the entertainment capital of the world, the city enjoys climate more or less similar to the ones in the Mediterranean, with an average of 35 days with measurable precipitation a year. It makes installing an air conditioner Los Angeles in both residential and light commercial areas of the city a necessity, as well as upgrading and repairing your air conditioner.
The experts in installing and repairing an air conditioner in Los Angeles is United Plumbing Heating Air & Electric. Servicing the Los Angeles County for 30 years, United Plumbing Heating Air & Electric is sure to be reliable and the best choice for all your home or business heating and cooling needs. Always providing and utilizing the best top of the line technology to provide maximum comfort for the clients. Because of its years of experience, our technicians are guaranteed to repair your air conditioner units and provide you with full support anytime you need.
Installing and fixing an air conditioning  is not the only service available, they are capable of providing all you indoor home and business needs! You will never have to call another company ever again. You won't go through the arduous process of researching companies and comparing their efficiency, prices, models, and the customer support that they offer; all you need is our services. Solar energy have been getting quite popular in recent times due to the benefits it gives, and since the demand for solar energy panels is steadily increasing in the market, the cost has also gone down and is now quite affordable. They can install and repair these as well as your ventilation, lights, heater, all types of indoor and outer door lighting and air conditioning units as well.
A team of experts will provide service installation, troubleshooting, for new commercial, light industrial and residential services. For electrical needs, they can handle both small to large scale projects with the same quality and efficiency no matter how big the project may be. Examples of services include circuit breakers, electrical panel replacement and upgrades, ground fall circuit interrupters, outlets and switches, ventilation fans, wall sconces, chandeliers, track and fine art acting, Deck, patio or garden lighting like floodlights, heater and air conditioner. The same quality of workmanship is given in the installation of products like water heaters and conditioners and great care is given in drain cleaning and leak detection as well. So if you ever have problems with your air conditioner unit or any installation and repair issues, United Plumbing Heating Air & Electric is the one to call.